Founder/CEO – Eco Green Auto Clean
Tesla is a leader in the electric premium vehicle market. Eco Green Auto Clean is the maker of the one-cup-of-water car wash. Separately, these companies save energy and other natural resources. Together, they have the potential to enhance and grow their businesses; all while helping the environment.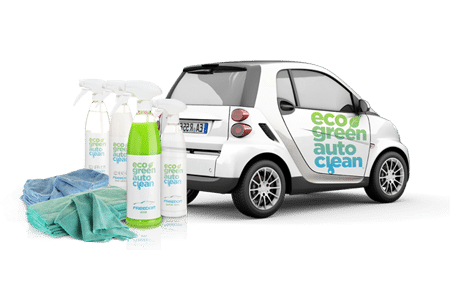 Image Source: www.ecogreenautoclean.nl
A Leader with Vision
Anton Van Happen, founder of Eco Green Auto Clean came up with the virtually waterless car wash, as a practical solution to a monumental problem. California is in the midst of a 100-year drought. Some cities have water restrictions, while the writing is on the wall for statewide limitations. So far, business on weekends has tripled since opening in 2012. Consumers are worried about the drought and are being proactive to save water any way they can. If the state-wide restriction is implemented, then the business can grow exponentially.
The business started as a stand-alone car wash in Redwood City, California. The basic premise: use environmentally-friendly products and, as little water as possible, to wash each car. There are many of us that think they can come up with ideas as practical and life-changing.
Organic Growth
It would be easy to just remain as a car wash business, but Eco Green Auto Clean has consistently expanded their business. You can purchase their plant-derived products and accessories online.
Now, looking to grow the business even more, they are in serious talks with Tesla, to provide onsite carwashes at their supercharger stations. Eco Green Auto Clean, already has a solid fanbase with Tesla owners. And, it seems to be an ideal partnership for two companies looking to sustain the environment.
What's next for Eco Green Auto Clean?
They have the nearly waterless car wash, a line of eco-friendly products, and the possibility of a major partnership with Tesla. So what's next for Eco Green Auto Clean? Considering they offer onsite services to Google and other companies, it would seem the potential for growth is limitless. Eco Green can open more locations, as well.
The drought has made California residents very aware of conserving water. When Happen was asked if the drought has benefited his company, he replied, "For our company yeah. For the environment, no. But for us it's going well, yeah." There may be a lack of water, but the growth of Eco Green seems assured
Check out their line of products on Amazon, and try some for yourself! Let us know what you think.
Maybe you have already? Feel free to comment below, we'd love to hear from you.
Close your eyes and picture and engineer. You probably weren't envisioning Debbie Sterling. Debbie Sterling is an engineer and founder of GoldieBlox, a toy company out to inspire the next generation of female engineers. She has made it her mission in life to tackle the gender gap in science, technology, engineering and math.
GoldieBlox is a book series+construction set that engages kids to build through the story of Goldie, the girl inventor who solves problems by building simple machines. Debbie writes and illustrates Goldie's stories, taking inspiration from her grandmother, one of the first female cartoonists and creator of ""Mr. Magoo."" Her company, launched in 2012, raised over $285,000 in 30 days through Kickstarter, and has been featured in numerous publications such as The Atlantic and Forbes.
Prior to founding GoldieBlox, Debbie served as the Marketing Director of Lori Bonn, a national jewelry company. For the past 7 years, she has also served as a brand strategy consultant for a wide variety of organizations including Microsoft, T-Mobile, Organic Valley and the New York Knicks.
Debbie's inspiration to create a mission-driven company came in 2008, when she spent 6 months volunteering at a grassroots nonprofit in rural India. She created a viral fundraising campaign called ""I Want a Goat,"" raising over $30,000 for economic and educational development in the region. This experience helped pave the way to finding her true passion: inspiring the next generation of female engineers.
Debbie completed her degree in engineering at Stanford (Product Design, '05) and currently lives with her husband in San Francisco.
In the spirit of ideas worth spreading, TEDx is a program of local, self-organized events that bring people together to share a TED-like experience. At a TEDx event, TEDTalks video and live speakers combine to spark deep discussion and connection in a small group. These local, self-organized events are branded TEDx, where x = independently organized TED event. The TED Conference provides general guidance for the TEDx program, but individual TEDx events are self-organized.* (*Subject to certain rules and regulations)